Ecom Ads Assault
Big Nate's "CRIMINALLY PROFITABLE" Secret Weapon For Crafting Ad Creatives & Copy That Sell Like Hell
Dear Reader,
If you are in the business of e-commerce, dropshipping, or selling physical products online, and would like to know the exact system I am using to create Facebook & Instagram ads that convert attention into sales at a rate so high it should be considered criminal, then this letter will show you exactly that.
Here's the deal:

I've just published a new digital product called…
"Ecom Ads Assault"

And what this product is, is essentially one big case study.
Here's what I mean:
Over the past year or so, I've spent upwards of half a million dollars on Facebook ads for my e-commerce store.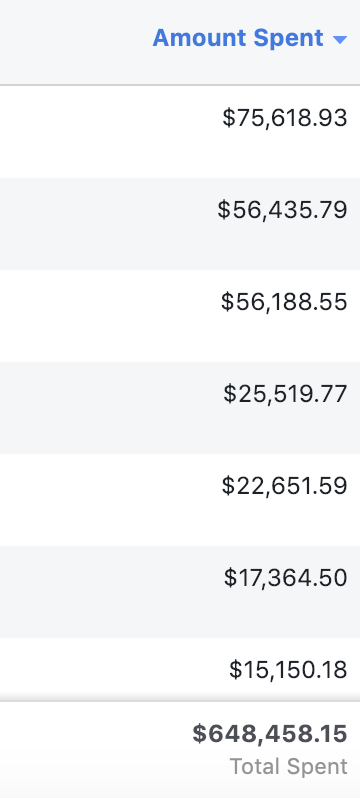 (One of the most profitable investments I ever done made to be honest...)

And in that time, I've tried LOTS of different things. Run hundreds of tests, tried dozens of different methods, lost a little bit of money, made a lotta bit of money... basically, I've seen firsthand — in the real world — what works and what doesn't.
And, using this sheer experience of:
Spending so much on ads.
Trying so many different things.
And analyzing the immense amount of cold, hard, real-world data...
I've now taken what I've found to be the most effective advertising methods for selling physical products online (not based on what I "think" is most effective — but based on what the numbers actually say) and I've distilled them down into one simple system.
The EAA System
And what it does is, it shows you how to create ad copies and creatives that convert cold traffic into paying customers at a rate nothing short of ridiculous.
However, to be upfront with you:
It is a bit pricey.
And, there are no refunds or guarantees.
So to help you make an informed decision about whether or not this investment is right for you, here are some of the secrets you'll find inside:
✔ A weird (but effective) way to make high converting ads out of butt ugly white background photos (perfect for beginners because you don't need to get custom content. Module 3, Section 4.)

✔ How to "force" people to read, engage, and click on your ads using a "trick" of human psychology (that in 99% of cases people simply can't ignore. Module 2, Section 5.)
✔ The simple two sentence ad a customer of mine ran that made him upwards of $10,000 in just a few weeks (using the exact strategy taught in Module 3, Section 4.)
✔ The little-known "C-word" that overwhelmingly determines how effective your ads are (goes far beyond just your ads and heavily influences things like your website conversion rate, cost per purchase, and ROAS. Module 2, Section 1.)
✔ Why recent changes to the Facebook algorithm are making the "old way" of writing ad copies obsolete (and how to do it the "new way" if you want to stay alive. Module 2, Section 2.)
✔ The 4 elements of a successful ad (hint: the ad itself is only about 20% of the equation, the other 80% is where you'll actually make your money. Section 2, Module 3.)
✔ Why your ad copy is actually the least important part of your ads (this is why I never spend more than 5 minutes writing an ad copy — there are simply other, far more important factors to attend to… Module 2, Section 4.)
✔ The secret psychology behind turning attention into sales (there is a specific 4-step process to it, that, when done right, nearly guarantees your ad will make sales profitably. Module 2, Section 5.)
✔ The brutal truth about "picture ads vs. video ads" (it is not quite as cut and dry as you might think. Module 3, Section 1.)
✔ A secret way to turn boring white background photos into attention-grabbing design pieces (these types of ads cost me less than $10 to make, yet convert at a ridiculous rate, sometimes even better than video. Module 3, Section 2.)
One second, let's go deeper on this last tip...
If you follow the method laid out in Module 3, Section 2 to a T — boring, ugly white background pictures from AliExpress can not only become your highest converting ads (essentially eliminating the need to get custom content) — but will also help you beat out competitors selling the same products, as doing things this way makes your products look "branded" and much higher quality, even if they technically are not.

(In fact, here is an example of ad set of mine that used this exact method — that, as you may notice, got an average cost per purchase of just $16 on products I sell for over $50...)
One more thing:
In Sections 4 and 5 of Module 3, I also give you two other ad methods you can combine this method with to make low (or even no) budget video ads that convert like crazy, even if you have zero video content and no video editing skills.
Not to mention:
If you continue onto Section 7 of Module 3, I also reveal a real-life example of an Instagram story ad I'm running for my brand right now that has not only generated me thousands of dollars in sales using these exact methods, but that...
You Can Copy, Swipe, Steal And Apply
To Your Business As Soon As Today!
And yes, this even works if you are completely new to this game, have little or no data, and are still testing products to find what works.
Onwards:
✔ How to as much as double your ads' click-through-rate with one simple tweak (a lot of people don't even know this exists, but it affects your ads' CTR massively, and if you're not doing this your ads are almost undoubtedly performing worse than they should be. Module 3, Section 7.)

✔ 4 eye-opening examples of high-converting picture ads ran by top e-commerce brands you can "steal" and use in your ads in as little as a few minutes (believe it or not you can even take these types of pictures with your iPhone. Module 3, Section 6.)
✔ The common sense reason your ads aren't converting (ironically it has very little to do with your ads themselves. Module 2, Section 1.)
✔ How to drastically increase your website conversion rate without touching a single thing on your website (all it requires is a little "tweak" in your ads that can be done in as little as a few hours. Module 2, Section 1.)
✔ A brutally effective old school ad psychology secret that works like a Mexican for selling physical products online (old school ad guys like David Ogilvy and Dan Kennedy used this exact thing to make millions with direct mail, and it translates very nicely to the online world. Section 2, Module 4.)
✔ Why telling someone NOT to buy can actually be one of the most effective ways to persuade them to buy (consider this a bit of a "reverse psychology" trick. Module 4, Section 6.)
✔ The most profitable marketing angle to take in your ad copy if you're selling jewelry, accessories, etc. (I'd even go so far as to say it's "criminally profitable" since it works so well it's like taking candy from a baby. Module 4, Section 2.)
✔ How to get "big brand" quality lifestyle pictures (without paying professional photographers or hiring expensive models. Module 3, Section 3.)
✔ A secret infomercial-inspired ad strategy for creating ridiculously high-converting ads when you're selling a product that has a demonstrable use (this is the exact strategy that made the FlexSeal and FlexTape commercials so wildly successful. Module 1, Section 15.)
✔ Why saying things like, "Buy Now!" & "Claim Yours Here!" in your ad copy is actually strangling your sales (has to do with new Facebook algorithm changes, which if you're not aware of, have changed ad copy strategies significantly. Module 2, Section 2.)
More on that last part:
These are just two examples of the dozens of things that, under Facebook's new algorithm changes, can throttle your ads' performance if you're not aware of them and are still doing things the "old way."
(Since your ads' performance is largely determined by how Facebook "sees you" — i.e. whether they believe you to be a high or low quality advertiser — now more than ever it's crucial that you are up to date on all new algorithm changes and are doing things in the most "Facebook friendly" way.)
The good news is, for those that know how to do things the new "Facebook friendly" way...
Creating Killer Ads That Convert Like Crazy
Is Actually Simpler And Easier Than Ever Before!
Now, it does take a bit of work to do this right.
But, based on the numbers I've been able to generate doing things this way, I believe it could potentially do more to increase your sales, decrease your cost per purchase, and increase your return on ad spend than just about anything else you could possibly do (explained in Module 2, Section 2).

(Take this recent ad set of mine that used this new "Facebook friendly" way as a prime example...)
Here are a few more of the secrets inside Ecom Ads Assault:
✔ A sneaky way to write ad copy that "flips a switch" in peoples' brains and subconsciously compels them to buy (even if they don't want or even necessarily like your product. Module 4, Section 3.)
✔ What 7 and 8-figure Facebook ads experts know about ad psychology that you don't (and why I never create a new ad without using their very specific 4-step psychological framework. Module 2, Section 5.)
✔ How to make it near impossible for people not to pay attention to your ads (doing it this way makes your ads stand out so much people can't help but read and engage with them. Module 1, Section 8.)
✔ How to incorporate urgency and scarcity into your ads without coming off as scammy or spammy (doubly important after the new Facebook algorithm changes. Module 4, Section 2.)
✔ 7 unique video ad case studies of highly successfully e-commerce brands that you can use as soon as today to model your own ads after (one of my many "success secrets" is taking what's already working and modeling it — and this is exactly what this section will allow you to do with your ads. Section 3, Module 7.)
✔ The only tweaks to make to poor performing ads to fix them ASAP (there are only 4 of them, and tweaking anything else is not only a waste of time, but a waste of money as well. Module 2, Section 3.)
✔ Where and how to find cheap video editors (that are actually good) to create high-converting video ads for you so you don't have to waste your own time doing it yourself (my video editor is one of the most crucial parts of my business, and not having him "locked down" earlier was a huge mistake. Section 3, Module 7.)
✔ A crafty way to "trick" Facebook into showing your ads to the highest converting customers (something you can do as soon as right now to decrease your ad costs basically overnight. Section 2, Module 2.)
✔ Big Nate's uncensored opinion on using emojis in your ad copy (plus how the recent Facebook algorithm changes changed how I do things with emojis. Section 2, Module 4.)
✔ A high ticket sales secret used by legendary ad men like David Ogilvy and Eugene Schwartz to sell extremely expensive products to cold prospects (that also happens to work like gangbusters with low ticket products and cold traffic on Facebook. Module 4, Section 6.)
✔ And much, much more, including...

Lifetime access to all existing content plus free lifetime access to any and all future updates I make to the Ecom Ads Assault system.
(As time goes on and things change — and they do, they always do — I will be constantly updating the content inside EAA to reflect what is currently working so you are never working with dated or incomplete information.)
Free membership into my "inner circle" of ecom killers.
(This is a very informal but valuable thing, reserved only for my loyal customers, and essentially it gives you exclusive access to special deals and discounts on future products, free bonus content not available anywhere else, and while it doesn't happen often, "first movers advantage" on the occasional opportunity that slides across my desk to work and make money with either myself or other "inner circle" members — all of which is conducted through a "secret" customers only email list.)
And, a pretty unique bonus of enrolling in Ecom Ads Assault today:
In the not-so-distant future I will also be revealing my e-commerce brand inside of EAA (far before I reveal it to the public), and doing a sort of breakdown of what it is, what kind of products I sell, why I chose this specific niche, and how I was able to scale it to 7-figures in sales within just 1 year of starting it.
With all of these resources at your finger tips, aside from creating your ads for you...
There Is Nothing Else I Could Possibly Do To Make
Crafting High-Converting Facebook & Instagram Ads Any Easier!
Alright, if this is something you're interested in, here are the final details:
Ecom Ads Assault is a 4 module, 36 section digital product containing primarily video content that costs $279.
And again, there are no refunds or guarantees and all sales are final.
If that's not up your alley, no worries.
(To be honest with you this product is only intended for a small portion of my audience anyway.)
If you do decide to buy, then here's what I want you to do:
As soon as you make your purchase you will receive access via email. Right away I want you to consume the content inside (shouldn't take you more than a day or two), then immediately start applying it to your Facebook ads.
Use it to make new ad creatives.
Use it to write new ad copies.
Use it to come up with new marketing angles.
Then, in one week's time, I want you to send me an email sharing what kind of effects implementing the Ecom Ads Assault system has had in your business.
Why do I want you to do all this?
Because my goal here isn't just for you to learn something.
My goal is for you to...
Swiftly Implement The Information Inside And
Make Your Money Back In As Little As 1 Week!
Basically:
I don't want this to just be "another course."
I want this to be an investment that recoups itself as quickly as humanly possible, pays you back dozens of times over, and continues to make you sales over and over and over again for many months and years to come.
That way, you're not really "paying" for the information.

It's more like the information is paying you.
Anyways, to get inside Ecom Ads Assault today, all you have to do is click on the big blue button below, fill in your information, and you will receive access via email immediately.
Here's To Your Success,
Nate Schmidt